5 Back-to-School, Time-Management Tips for College Students
College students have a lot going on. Classes, homework and tests, for sure. But, you might also have a job and you may even be raising a family. Then, there are the mundane things you have to do, like going to the dentist and getting a haircut — and the enjoyable things, like playing sports, practicing yoga, going to the movies or hanging out with friends. Oh, and don't forget eating and sleeping.
How can you possibly do it all? Try managing your time with these helpful tips.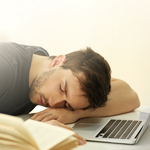 Schedule your coursework. Know the due dates for each of your assignments and the dates of upcoming tests and enter them in a calendar. That will help you set priorities and plan your week. Determine how much time you need to spend on each task based on how important or difficult it is. Balance the amount of time you spend per course as well. And be sure to check items off when they're completed. Not only will you know what's left to be done, but you'll also experience a sense of accomplishment.
Break it up. For large projects, like term papers and finals, divide the work into easy-to-manage blocks. Then, spread the work out over the course of the week. Add some flextime in your schedule to allow for last-minute assignments or unexpected occurrences.
Become your own efficiency expert. Do things once and do them right the first time. Focus on your reading and take notes so you don't have to reread and retread material. Figure out if you study best during the day or at night, then schedule your more difficult tasks for the times when you're the freshest and most alert. And try not to miss classes. It takes more time to learn what you missed and you never learn it quite as well as you would have if you'd attended in the first place.
Make time for life-affirming activities. Go for a walk in nature. Have dinner with a friend. Volunteer for a cause or charity. Do something nice for yourself or someone else. School is just part of your life, albeit an important part, but it's vital to establish a healthy balance.
Maintain good health. Recent studies are touting the importance of getting adequate rest — at least eight hours of sleep a night. Along with eating nutritious foods and blocking out time for regular exercise, these practices will help keep your energy level up, reduce stress and result in a more engaged mind.